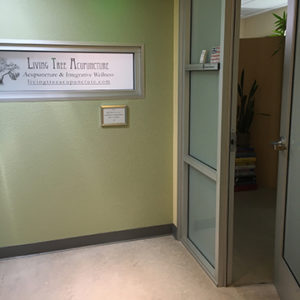 Prior to Your Appointment
When you schedule your first appointment, I will ask if you would like to fill out your intake paperwork in the office or at home. If you would prefer to do it at home, I will ask for an email address to which I will send a link to a PDF that you may fill out and print (if you have that software) or print and fill out by hand. You will bring the filled out packet with you to your appointment.
Patients are asked to refrain from wearing perfume and other fragrances during appointments, for my benefit and for that of patients seen after them. Every effort will be made to accommodate those who are fragrance or chemical sensitive, however freedom from exposure cannot be guaranteed. There are four other businesses on the second floor, each with clients coming and going throughout the day, and at least two of the businesses use essential oils and other fragranced products on their clients. All LTA fabrics and practitioner clothing are laundered in free and clear products.
Arriving at the Location
Living Tree is located at 405 Kains Avenue in Albany. It's a two-story, brown brick building behind the Wells Fargo and Bridgewater Oral Surgery buildings, right next to El Cerrito Plaza. Parking is usually abundant on the street or in the El Cerrito Plaza lot, however things can get tight during the farmers markets on Tuesday and Saturday mornings.
Suite 204 is located on the second floor. A lift is available at the front of the building for those unable to use the stairs. To call it to the bottom floor, press and hold the down–not up–position until it arrives.
Two gender-neutral restrooms are available about halfway down the main hallway on the left side.
Suite 204 is near the end of the hallway. If you are early for your appointment or my door is closed, please have a seat in the main waiting area and help yourself to tea or water. Please do not knock if the door is closed. If my door is cracked open, that means I am ready and you can just come on in.
The office is a single, L-shaped room with a bamboo divider creating privacy for the treatment area.
At Your Appointment
A first appointment can run as long as 2 hours although it is usually closer to 1.5 hours. Follow-up visits usually run 1-1.25 hours, although they may run longer if you are experiencing new or significantly worsened symptoms. We will first review your intake paperwork, then discuss your concerns, and then get you comfortable on the table, either face up or face down. Bolsters may be placed under your shoulders, hips, knees, or ankles to provide comfort and alleviate strain. If you prefer, the table itself may be heated. A heat lamp may also be placed near your bare feet to prevent chilliness, something that often occurs as the body relaxes.
I use roomy, 100% cotton gowns for most patients, so there is no need to wear or bring anything special to change into. However, if you would prefer not to wear a gown, loose clothing is preferred.
In my office, I primarily use acupuncture, cupping (suction cups placed on the skin, which may leave bruising), and medical qigong (a form of energy balancing without needles based on ancient Daoist and Chinese medical theory) to help my patients. I use medical massage techniques, electrical acupuncture (a mild electrical pulse sent through inserted needles), and herbs less frequently. Because I am highly sensitive to moxa (mugwort) smoke, I do not use moxa in my office. Should a patient need moxibustion treatment, I will teach them to use it on themselves at home, preferably outside.
Once your needles are in and cups (if any) are in place, I will step back into the intake area but will remain available should you need anything. During the treatment, I may come in one or more times to stimulate the needles or move cups around and eventually to remove the needles. The total retention time of the needles varies, but it averages ~30 minutes.